PCC's welding and engineering capability supports a wide range of welding processes, testing, procedure, development, training and custom equipment. Qualified in ASME Sections III, VIII, IX, as well as AWS, Tech Pub – 248, 278, 1688 & 1689, and also NAVSEA 250-1500-1, PCC can add significant value to your fabrication needs. See more details of our many capabilities below.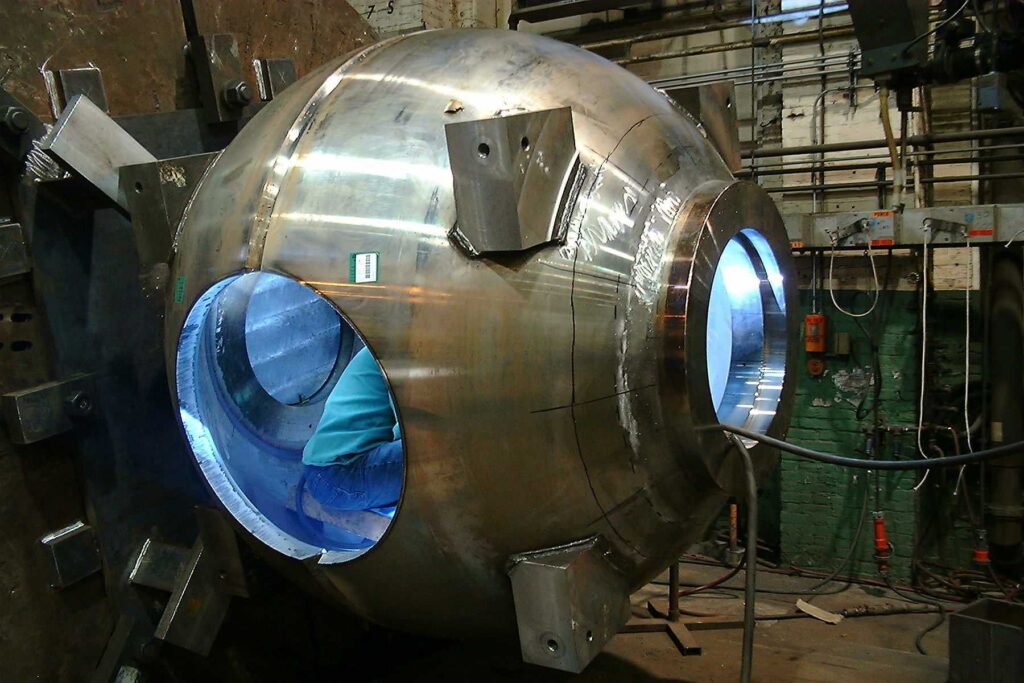 Custom Welding Equipment
In support of in-house manufacturing requirements, PCC has worked closely with welding equipment manufacturers to design, test, and implement custom welding equipment for specialized applications. Applications include small bore cladding to 1″ diameter, remote operation vision welding of copper to carbon materials and robotic welding including overlay cladding.
Weld Engineering/Laboratory
Base material weldability testing
Filler material selection and testing
Welding process selection
In-house welding procedure development and qualification
Welder training and qualification
Custom welding equipment development
Experience
Welding Processes
Shielded Metal Arc Welding (SMAW)
Submerged Arc Welding (SAW) (mechanized single or tandem arc)
Gas Tungsten Arc Welding (GTAW)
Auto Cold Wire Gas Tungsten Arc Welding (ACWGTAW)
Auto Hot Wire Gas Tungsten Arc Welding (AHWGTAW)
Gas Metal Arc Welding (GMAW) (pulsed synergic, short arc, spray)
Flux Cored Arc Welding (FCAW)
Submerged Arc & Electroslag Strip Cladding
Auto GTAW Tube-to-Tubesheet (AGTA T-TS)
Manufacturing Specifications
ASME Sections III, VIII, IX
AWS D1.1, D1.2, D1.6
TECH PUB-248, 278, 1688 & 1689
NAVSEA 250-1500-1
Weldability Testing
Precision Components offers comprehensive base material weldability testing utilizing a diverse selection of welding processes and parameters. Weldability testing includes simple arc characteristic evaluations, metallographic analysis and destructive testing.
Welding Process Selection
As part of developing unique in-house manufacturing capabilities, PCC's welding process expertise includes such applications as:
Narrow groove submerged arc welding of carbon and stainless steels in thicknesses up to 24 inches with 2° to 8° included angles
Automatic tube-to-tubesheet welding of Titanium and Nickel based alloys
Narrow groove automatic gas tungsten arc welding of Titanium and Nickel based alloys using video vision capabilities
Remote pipe I.D. welding with direct view vision capabilities
Spiral cladding of bores down to 1 inch I.D.
Automatic GMA twin arc welding of stainless steel
Standard welding processes, as well as advanced joining processes (i.e. laser, electron beam, diffusion) are evaluated for their cost effectiveness of application.
Welding Procedure Development
PCC's in-house Welding Development Laboratory offers complete welding procedure development and qualification capabilities. PCC can select, develop and qualify welding procedures to meet a range of customer needs from seal welding of material only a few thousandths of an inch thick to narrow groove welding heavy wall forgings.
Welder Training Qualification
PCC can train and qualify welders in accordance with commercial and military welding specifications. PCC can provide welder training and qualification for your firm from classroom instruction of process theory to hands-on training with prototypical mockups.